Sports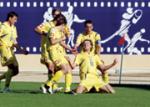 Many Ukrainians have gained victories in various areas, including sports, culture, science and industry. European sports, such as football and wrestling, spread to Ukraine at the end of the 19-th century. All of Europe knew of Ivan Piddubny, the Ukrainian Greco-Roman wrestler. Ukrainian sportsmen won many victories serving on the national teams of the USSR in various sports competitions. Sportsmen like pole-vaulter Serhiy Bubka (who set 35 world records), Oleh Blokhin and Ihor Belanov, who won the "Golden Ball" as Europe's best football players, became legends of the past century. The captain of the national football team of Ukraine Andriy Shevchenko also won the "Golden Ball" in 2004. This is the first case in the history of football, that both the captain and trainer received such distinctions. The silver medal for the Ukrainian youth football team in the European Championship of 2005 testifies that Ukrainian football has a bright future. The Ukrainian gymnastics traditions are also well known throughout the world. Famous Ukrainian gymnasts were Iryna Deriuhina and Larysa Latynina (she won 9 gold, 5 silver and 4 bronze medals – the highest achievement in the history of the Olympic Games). In all, Ukrainians have won more than 400 Olympic medals.
Ukraine is discovering new stars shining in the world of sports. The boxers Volodymyr and Vitaliy Klichko, swimmer Yana Klochkova, gymnast Anna Bessonova, track athlete Zhanna Pintusevych, tennis player Andriy Medvedev, football player Andriy Shevchenko, and many others are famous outside Ukraine.
Ukraine has also risen a new generation of chess players who have been winning more and more titles in this intellectual sport, including the world's youngest world champion, Ruslan Ponomariov, Kateryna Lagno, who is the youngest female grandmaster, and Serhiy Kariakin, the youngest male grandmaster in international chess.