10 useful steps for those who enter universities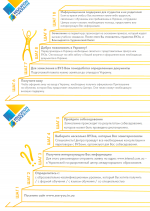 Here to your attention are 10 useful steps which will help you to make choice about profession and receipt in one of higher educational institutions of Ukraine.
STEP 1
Visit www.see-you.in.ua
STEP 2
Be defined with:
- educational and qualifying level which you want to receive
- form of education
- training language
- specialty.
STEP 3
Receive information interesting you.
For this purpose we recommend to send the demand to www.intered.com.ua – the Ukrainian state Center of the international education.
STEP 4
Choose some higher education institutions which interest you.
Specialists of the Center will carry on all necessary consultations and negotiations of Higher education institutions, will organize for you interviews.
STEP 5
Pass interview.
Transfer occurs by results of interview which can be carried out distantly.
STEP 6
Receive the visa.
To issue the entry visa to Ukraine, it is necessary to receive the official invitation to training which to you will be provided by specialists of the Center. They also will give necessary visa support.
STEP 7
Certain documents will be necessary for transfer in higher education institutions for you.
It is necessary to be engaged in preparation of a package before departure to Ukraine.
STEP 8
Welcome to Ukraine!
Before arrival to Ukraine it is necessary to contact representatives of the Center or higher education institutions. They will assume care of your meeting and registration of all necessary documents in Ukraine.
STEP 9
Transfer on the first course occurs on the basis of the order which publishes a higher educational institution.
After that you become the student of higher education institutions, and to you the student ID card stands out.
STEP 10
Information support for students and their parents.
If during study you have any difficulties connected with training or stay in Ukraine, the staff of the Center can render the necessary help, provide all information interesting you.