Andriy Danylko: "We are laughing and singing just as other people»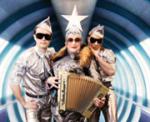 The second place of Andriy Danylko, or, more precisely, of his character Verka Serdiuchka, at the Eurovision-2007 song contest surprised both the admirers as well as the critics of the artist. In fact, «those, who are second, have an undeniable right to be the first», – Jonathan Swift once said. Meanwhile, such a was quite unexpected, because even loyal critics marked that success of Serdiuchka is a phenomenon exclusively related to the post-Soviet space. Yet, at the end of the day, the satire and humor of Danylko proved to be international.
In Ukraine, the enchanting Serdiuchka started with humorous monologues, afterwards invented her own TV-show, where she appeared as a train conductor. Relaxed socializing with music and cinema stars from Russia and Ukraine in her program was quite different from the existent formats. Quickly, the program became very popular. And then, Serdiuchka began to sing... What else we can expect from this indefatigable person, one can read in an interview with Andriy Danylko – a man who knows her better than all of us.
– Andriy, it is written on the web-site of Serdiuchka, that this character was born as early as 1990. Is that right?
– Yes, we celebrate the birthday of Serdiuchka on the 8-th of March. First, people didn't really want to admit us to that festive concert, but we showed two gags done by Serdiuchka. And this was not a simple success, but real triumph. We returned to the stage many times, people applauded us. I could not understand why the reaction was so stormy. We certainly knew that people will like it, it will be funny. But, we didn't suppose such an excitement.
– And how did this figure appear, how long did the search last?
– Quite short. Serdiuchka had been formed for a long time as a character and develops until now. As early as in school, I parodied teachers, charwomen. It was not a job, it was tomfoolery. And certainly, as the reactions to my parodies surprised even me, I understood that they were funny and resembling their objects. The creation of Serdiuchka was not that difficult.
– How do you see Serdiuchka: is it mockery, satire, humor or..?
– You know, my relationship to her changes with every year. And I do not like to watch the old records, this period has passed. In that very moment, it was funny or amusing. As time goes by, Serdiuchka transforms into an artistic character and she changes into a kind of kick-up character in a good sense. She is somebody, who tells the truth. She knows no limits or taboos, she can say, what she thinks. During my last journey to France, I understood that this is understood everywhere. Yes, people get interested in her. So we dethroned the myth, that Serdiuchka is comprehensible only to the Slavs and will never be accepted and understood in Europe.
– Your countryman Nikolai Gogol, until he become a known Russian writer, played on stage, including women's parts in comedies. According to observation by contemporaries, none of the actresses succeed to do this better. Serdiuchka also overshadows modern women-performers. May be it is a man's job to parody women?
– I think that a lot of comic women-actresses are very funny. But it seems to me that men succeed in playing especially female comic roles a little brighter. May be, this is because they don't try to look beautiful and don't think about appearance.
– The contrast between the epatering Serdiuchka and the modest Danylko is striking…
–I am not modest, this is not the case. Well, I am, certainly, less emotional than Serdiuchka, sometimes my tiredness is visible.
– Does the transformation take a lot of energy?
– To transmute is not difficult for me. When I see parodies of Serdiuchka, I understand that they do not understand her at all. Why, after the appearance of Serdiuchka, nobody has scored a greater success in this genre here? It began such an epidemic disguise and parodying that I feel sick sometimes. Because the point is not in changing clothes. The main thing is not the visual resemblance with a woman's appearance, but absolutely other principles. When people watching TV or a life performance forget that it is a man who plays, and think "this is – Verka Serdiuchka" then this is professional accuracy. What the spectator sees must not be disgusting. One needs taste, and sense of proportion. It should be noticed that our appearance on the screen is very calibrated: only on holidays, plus clips coming out now and then. Because Serdiuchka should be an event, she can not appear constantly, as other performers, she is different. She shall appear rarely. One cannot eat a lot of black caviar, it has a harmful effect on the liver. One radio anchorman told me once «It was always impossible to understand for me, how Danylko has been succeeding during so many years not to cross the line, when the audience says «ouch, ugh». I too do not understand that, and sometimes I sit and think, how long can I babble…
– Interestingly, there are no people indifferent to the figure of Serdiuchka in Ukraine: they are either admirers or fervent opponents.
– Yes, you are almost right. There is still a small circle of observers, they are seemingly indifferent. However, they are very well informed, which is also interesting. Often, when they visit a party, or a performance, they change their opinion. They come to me and say: we see it somehow different.
– Your departure to the Eurovision contest in Helsinki was accompanied with such actions of protest, which significant social and political events do not even cause. Don't you share the anxiety of some of your compatriots that Serdiuchka may have a negative influence on the attitude toward Ukrainians on the whole?
– When people ask, how is it possible to allow Serdiuchka to represent the country, this is ridiculous. And by what the country should be represented? By political battles? As a matter of fact, I am not the president to represent the country. I am a representative of a genre which exists in Ukraine, and, perhaps, it is more honest, than politics. For Ukraine, I was a disgrace before the Eurovision, and after it I am its pride. Both labels are very questionable, soap-suds. Success and blaming one has to take both lightly. In the Eurovision contest, we were really bright, both the song and mood with we arrived. We had a task to cheer and stir up the public. Journalists did not move a step from us, not because we were the best, but because people wanted something different. Nobody thought about the first or second place. Well, certainly, we didn't like to have the tenth place eather. The real success is not the second place, but the fact that, for example, from the Eurovision a song for the first time went to the English billboards without any singles in stores, and won the sixth place in the national hit-parade of France. There is demand for it in Europe, people know what to do with it: to dance, have fun, and fool around, this is what many people want.
– Did you notice any distinctions between the Ukrainian audience and the European one?
– No. My single shame is my lack of knowledge of foreign languages. If I knew a language, it would be much funnier. For example during the talk-shows: we don't know how we will be translated. And translating jokes is always difficult, and not always there are the right words chosen. That is why only a song can express Serdiuchka, but not a text, unfortunately. But I am going to change this.
– Andriy, your Serdiuchka once conquered Russia, and now became known in Europe. She is the first Ukrainian star, who was offered contracts by the leading recording studios. But it is unlikely that Serdiuchka is treated as a serious singer. In spite of this, every song of her becomes a hit. How are you achieving this?
– Well, there is some feeling, I want that this way. It absolutely doesn't matter for me, whether she is a singer, or not. Whenever we say that she is a singer, we always say this with irony. Monserat Cabalie is a singer, but Serdiuchka is a performer, and I am probably, not an actor, but a performer. An actor is somebody like Jack Nicholson, Armen Dzhigarkhanian. As for me, I am a performer. I do not have the mastery to play together with such actors. I am a not producer, but I do self-direction, although I do this not well. It would be better to have a person who would understand you and help you to develop. Now I have my own idea, that a specific song is needed. There are a lot of sad songs, but people can't constantly be sad, someone should do the entertaining music. Recently, in Ukraine started the "Stars Factory" ("Star Academy") – one of the most popular shows in the world TV. At its opening, Serdiuchka said: "We all are present at the birth of new stars. Certainly, there will be abortions and freaks, as well as very handsome and great people. But my main wish is that you keep your own face, your individuality".
– Do you use Ukrainian rhythms and melodic in your songs?
– Yes, certainly. There are Ukrainian rhythms more often than not. The single which is coming out now in France – "Gop-gop" is in Ukrainian language. I had strong objections connecting this, as here this song was known long time ago. Yet, they wanted it. And it seems to me, it will stand out against the background of the mainstream.
– While travelling to different countries, do you miss Ukraine?
– Probably, I miss... my bed, sometimes – my studio. But when we were in France, I did not have enough time to stay longer, at least one week to feel the aura of city. Then, you begin to understand who those people are, what they laugh at, why they liked exactly this. There wasn't enough time. In Paris, people took photographs of Serdiuchka, took autographs. But it is only the visual perception, this star on the head, is certainly distinguishing. Well, we'll see, I do not believe it will be a mega-success in Europe, but, why not? May be, we will not gather stadiums, but it is worth to try.
– Are you asked about Ukraine in Europe? Were there any amusing scenes in connection with this?
– We are unknown. In France, there is a part in the TV program «Hit-machine», during which you go into a separate room, where there is a large screen on which two pictures are shown, and the anchorman asks about your associations with these pictures. And they asked the question, with what you associate Ukraine, and then showed pictures: on one picture, there were vagabonds, on the second there was a music group called «Ozone». As you understand, neither picture had a direct relation to Ukraine. Well, I said, if you have such a super choice I will probably choose the group «Ozone». And, it seems, they don't know, that this group "Ozone" is from Moldova, and not from Ukraine. It is somewhere there. And that is all.
– Before the last parliamentary elections in Ukraine rumors went around, that you had the idea to take part in it? Why did you not go into parliament?
– It is impossible to sit on two chairs at the same time. If you go there, you should not be engaged in anything else. And I have a lot of work, my collective. We have journeys, albums before us. May be, as time goes by, I'll venture to do this. I treat this idea not as a simple one, as a trick. I have a certain position. Serdiuchka could be engaged in writing laws on the cinema, copyright issues, to which now people pay only little attention.
– Ukraine is a young state and wants to be heard in the world.
– We are devoting ourselves to this. Serdiuchka is the Ukrainian dove of peace. She and the character of her mother are ambassadors of good will. They arrive in other countries, they laugh, they try to make friends, and this is a connecting link. We would like to attract attention to our country by our songs, jokes, our tomfoolery and epatage, we want to be understood in Europe, to show that we are laughing, fooling around and singing just as other people, because we are ok. Even though we achieve our success by means of epatage, people yell «Ukraine – is cool? Yes, it is cool! Ukraine – is fine? Yes it is fine!» as it was during the Eurovision. What do people actually know about us? They know Shevchenko, Klichko, Ruslana and Serdiuchka, and the revolution, of course. Is this the real Ukraine? In fact, we have also Vakarchuk, Bilyk, Via-gra, VV, Mogilevskaya, Sofiya Rotaru, and the trio Marenychi. Well, there is a whole pleiad of different artists, famous people. And they also create our image, our cultural potential. It would be great to show this in Russia, in Europe. We are not ashamed of this. Then people will get to know us.
Photos providing the mama-music Company