Chernivtsi, or what it means to be tolerant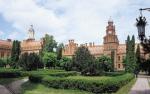 Founded in the 12-th century, Chernivtsi is one of the oldest cities in Ukraine. It is a fascinating mix of all the different cultures that have converged on the region: Ukrainian, Jewish, Romanian, German, Polish, and later – Russian. Otto von Hapsburg in his work called "Chernivtsi, or What it Means to be Tolerant" described the picture of an ideal town, a home to multiethnic and multi-religious citizens. "In Chernivtsi, there was a synthesis of national consciousness and of something higher… so to speak, European attitude. Here, it was proved that various peoples… could be united in the framework of common culture…" he wrote.
The city is sometimes called "a little Vienna". This is because its architecture is slightly reminiscent of the Austrian capital, or any other city of the former Austro-Hungarian Empire. Throughout the period 1774–1918, Chernivtsi, at that time called Czernowitz, was under Habsburg reign. In a record period of time this provincial city transformed itself into a gem of world architecture and a cozy university town famous for its intellectual discussions, cafes and bookshops.
In Chernivtsi, the former Residence of the Bukovyna Metropolitan is not to be missed. The palace built in the traditions of the Vienna Academy now hosts the Yuriy Fedkovych National University of Chernivtsi. Chernivsti has a perfectly conserved Art Nouveau theater built in 1905 by the Viennese architects Fellner and Helmer, the authors of the famous Vienna and Odesa opera theaters.
In 1918–1940, Bukovyna came under Romanian rule; in 1940, northern Bukovyna was annexed to the Ukrainian Soviet Socialist Republic and belonged to the Soviet Union until the latter's fall in 1990. This certainly had its impact on how the city looks today. But its most beautiful central part still bears the imprints of old Europe. Ultimately, Chernivtsi is one of the few places in Eastern Europe where you can still feel the "Old World" charm, and enjoy many of its most modern features as well.