Donetsk, the city of blacksmiths?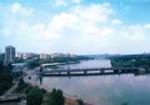 "Yes, without a doubt," a native resident of the city of metallurgists, and at same time the city of million roses, will reply to you with pride. The history of the capital of Donbas, Ukraine's largest industrial region, started right from a blacksmith's shop. Back in 1869, a British entrepreneur, John James Hughes, built a blacksmith's shop in the wild steppe and it became the first workshop of a powerful metallurgical plant, and later, all of that transformed into a developed metropolis.
Today, a monument in honor of 'the father of the city' decorates one of the most wonderful streets in the city. Modern Donetsk is a large industrial, culture-enlightening and educational center. For hours you can wander its green public gardens and parks, cozy boulevards, spacious squares and streets. And you can become captivated by the beauty of the city's buildings and ultra-modern architecture. The real exhibition hall under an open sky is the green and blossoming A. S. Pushkin Boulevard, where Donetsk artist-creators find their inspiration. The most favorite relaxation point for the city's residents is the Central Park named after A.S. Shcherbakov. People fall in love, dream and imagine their future amid nature, and on the picturesque banks of the First and Second Ponds. However, without a doubt, the pearl of Donetsk is The Park of Forged Figures, and there are no parks like it in Europe. The park's masterpieces charm and captivate you. Visiting this wondrous place has become a tradition of noisy wedding cavalcades of Donetsk's newly wedded couples. Every year, the International Festival of Blacksmith Mastery takes place on the park's territory and it is one of the oldest festivals in Ukraine. Blacksmiths from more than 10 countries compete for the title of the best master. And it is not without a reason, since Donetsk is the first city from the post-Soviet space that is a member of the Union of City-Blacksmiths of Europe. The symbol of industrial prosperity of this land is "Mertsalov's Palm", which received its name in honor of its creator. In 1900, the masterpiece of wondrous beauty was bestowed the high award, the Grand Prix, at the World Exhibition in Paris. The original of the work decorates the St. Petersburg State Mining Institute and its copy is installed in one of the largest cities in Ukraine - Donetsk.