Kyiv, the Ancient and Modern Capital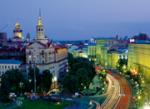 Kyiv is the capital of Ukraine and one of the most beautiful cities in Europe. It has been standing on steep hills overlooking the Dnipro River for more than 1,500 years. Only a handful of European cities can claim a history spanning such a long time. An ancient legend says, that Kyiv was founded by three brothers Kyi, Schek and Khoryv and their sister Lybid, and it was named after the eldest brother Kyi. Since then, Kyiv has flourished into a valuable center of culture and civilization of East Europe.
The city is the cradle of Eastern Orthodox Church where pilgrims from all over Ukraine and abroad come to offer up prayers in ancient Golden-domed cathedrals, churches and majestic monasteries. These unique monuments of high-spiritual aspirations, talent and consummate skills of people born at this land are rightfully claimed as masterpieces of ancient Rus and Ukrainian architecture.
As the сountry's administrative and financial center, Kyiv is a place for Ukrainian Parliament (Verkhovna Rada), Presidential Administration, and ministries and governmental departments. Its financial part consists of the National Bank of Ukraine, as well as investment companies and funds, representative offices of foreign financial institutions, exchange markets, and over 150 commercial banks. In Kyiv, more than 2,000 objects are placed in the list of historical, cultural, and architectural monuments.