Lviv – Western Gates to Ukraine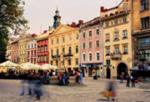 Less than an hour by air from Warsaw or Kyiv, with connecting flights from all over the world, Lviv is easy to open the western gates to Ukraine and to get to treasure yet to be discovered by many people.
Often referred to as "Little Paris" or "Ukrainian Pie Monte", Lviv hosts more than half of all the historic sites found in Ukraine. Because of the abundance of architectural and historic monuments, the city was recognized by the UNESCO World Heritage Committee as a treasure house of culture.
This is a museum-town under the sky where every street has its own legend. Narrow medieval cobblestone streets, rich and variable architectural landmarks make Lviv an unforgettable city. But it is not only architecture that makes the city special. Rich arts and crafts community, cozy cafes where exquisite coffee is served, add to Lviv's enchanting atmosphere that have always attracted artists, musicians and writers.
First mentioned in chronicles dating back to 1256, the legendary "City of Lions" was founded by Prince Danylo Halytsky and named in honour of his son Lev or Leo. The old city was one of the major cities of Halytsko-Volynske Principality; modern Lviv is an important political, economical and cultural center of Western Ukraine.
The central part of Lviv is designated as a historical architectural reserve. Its gray stones reflect a diversity of styles beginning with the 13-th century. You may experience the feeling of the Middle Ages, Renaissance, and Classicism. You can spend hours admiring numerous architectural landmarks of different epochs like St. Nicolas Church (13-th century), St. Bernadine Convent, Armenian Church (14-15-th centuries), St. George Cathedral (18-th century). The latter is considered a symbol of unity of two major branches of Christianity – Orthodox and Catholic. It was in Ukraine that the Greek-Catholic church was founded in the 16-th century.
From the early Middle Ages, Lviv has always been one of Eastern Europe's most important centers for organ music and organ design along with Krakow, Poznan, Warsaw, and Vilnius. There were over 50 organs in Lviv in the beginning of 20-th century represented almost in every cathedral.
Through all its history Lviv has always strived for innovation and growth. It was here that the first Ukrainian newspaper was published and first released in 1776. It was in Lviv that the first gas lamp was invented in 1853 and in 1883 the city was the first in Ukraine to implement the municipal telephone connection.
The walls of old Lviv buildings still keep the spirit of past centuries. Numerous museums and galleries are now treasure-troves of distinctive works of art that can satisfy tastes of the most demanding connoisseurs. Visitors to the city can stroll through beautiful parks, relax in the hotels or get ready to see "The Swan Lake" at the Opera House which is known as one of the most beautiful in Europe. The theatre is over 100 years old and has undergone major refurbishment, especially to the interior, which is now lavishly decorated with gilt and beautifully colored marble.
Modern Lviv is characterized by exquisite art, rich folk traditions that live in harmony with modern originality, as well as dynamic business activity and fast growing tourist infrastructure. All these, undoubtedly and rightfully, put Lviv among the best Ukrainian and Eastern European tourist attractions.