Packing a Patriotic Punch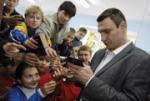 Role Models Taking on the World Ukraine's troubled history of foreign domination and colonization has led to the nation honoring heroic figures and role models that give it a sense of Ukrainian identity that links the past with the present. The emerging post-Independence generation gains in self-confidence and identity awareness young Ukrainians have a whole host of impressive modern-day icons to draw on. Together they are helping to foster a new, Ukrainian national identity for the 21-st century.
The first big popular culture breakthrough for independent Ukraine came in the field of sports, an arena in which the country has always excelled. In Soviet times many of the top performers climbing the Olympic podium in their distinctive CCCP tops were actually Ukrainians (Serhiy Bubka being the most famous), while the Soviet football team was often an extension of the Dynamo Kyiv sides of the era. Following independence this has translated into a wide range of world-beating performers who have helped raise the country's profile internationally, starting with a string of Olympic triumphs at the 1992 and 1996 games. The country's most successful sporting ambassadors have been the heavyweight champion Klitschko boxing brothers, whose dominance of pugilism's top division has been rivaled only by their outstanding intelligence and grace outside the ring (both are polyglots and each has a master's degree, while both are noted for their generosity to good causes both in Ukraine and in their adopted base in Germany).
The Klitschkos have both held world heavyweight belts during their careers, and the dream of reigning as joint world champs is still very much on the cards following the announcement in early 2006 of a comeback from former undisputed heavyweight champion Vitaliy Klitschko.The Klitschkos have long been based outside of their native Ukraine, but the brothers remain vocal patriots and take an active part in the social and political life of the country.
Ukraine's footballers are also among the country's best known international ambassadors, with 2003 European Footballer of the Year Andriy Shevchenko topping an impressive list of big name stars plying their trade in the world's top leagues. Known simply as 'Sheva' in his homeland, Shevchenko has been the most success footballing export from the former Soviet Union, delighting Ukraine's football-mad population and generating enormous patriotic pride in his achievements.