Serge Lifar: "I am a Ukrainian and proud of that"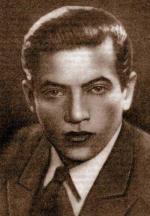 Serge Lifar. A great dancer of the past century. The premier danseur of the Ballets Russes and the favorite student of Serge Diaghilev. For more than 30 years Lifar worked in the Paris Grand Opera as the premier danseur of the ballet at the beginning, and as a choreographer and ballet master later.
As the founder of the Institute of Choreography in Paris and the University of Dance, he taught the history and theory of dance at Sorbonne and was also Honorary President of the International Dance Council, which maintained relations with UNESCO. The French mint founded a medal in his honor. He created more than 200 ballets and developed his own system of preparation of ballet dancers.
Serge Lifar. Serhiy Mykhailovych Lifar. A great French dancer of Ukrainian origin. Born on April 2, 1905 in Kyiv. He sang in a church choir of the St. Sophia Cathedral and dreamed of becoming a pianist. He got into ballet school by accident. At 17, Serge Lifar immigrated to Paris and afterwards visited his Motherland only once, on the eve of his 60-th birthday. He revived the French ballet and elevated it to a new level and he wrote in his will that the inscription "Serg Lifar de Kiev" – "Serge Lifar of Kyiv" should be written on his tomb in a Paris cemetery. He lived in Paris for 60 years, but Ukraine and Kyiv had always remained his dream. While bestowing Serge Lifar with the National Order of the Legion of Honour, Charles de Gaulle offered him to become a citizen of France, but Lifar replied: "I am a Ukrainian and proud of that." His name was forbidden in Soviet Ukraine, but he had always felt himself to be a Ukrainian! The great dancer "managed" to return to his Motherland only after his death – since 1994, the Serge Lifar International Ballet Contest has been held in Kyiv in his honor.