Solomiya Krushelnytska. Voice that belongs to the mankind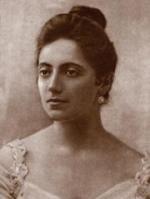 In the first decade of the 20-th century, only four singers were renowned kings of opera: Enrico Caruso, Mattia Battistini, Titta Ruffo, and Fiodor Shaliapin. And only one woman was honoured to join them – a genius Ukrainian singer Solomiya Krushelnytska."Solomiya's voice is the most beautiful ever heard by people…" – wrote the world's press after each triumphant performance of "the unforgettable Aida", "enchanting Chio-Chio San", "ideal Brunghilda" etc of Krushelnytska.
The unique vocal and artistic talent had little space in a small provincial town in the Ternopil region of Ukraine, where the future prima donna was born in 1872. But the years of her childhood spent in this small Ukrainian town had formed her outstanding personality, gave Solomiya a profound understanding and a tender love for a folk song. Solomiya studied music first in Galicia Musical Society Conservatorium (Musical academy) in Lviv, then in Milan, Italy, taking lessons with Fausta Crespi, a renowned professor of musical studies. A year thereafter the Italian opera stage was brightened with a new star that outshined all the forerunners. It was Krushelnytska for whom Giacomo Puccini wrote his famous opera Chio-Chio San. She was invited by the world's most prestigious theaters. Milan, Rome, Paris, Naples, Lisbon, Madrid, Warsaw, St. Petersburg crowned her with golden crowns and wreaths. She was met with ovations in New York and Buenos Aires. Krushelnytska's repertoire consisted of 63 parts from 61 operas. The skill of her singing was called genius without any exaggeration. The critics noted that alongside Solomiya's voice, the audience was mesmerized by her unsurpassable artistic play and elegance. In 1915, the singer leaves the opera stage at the height of her fame and dedicates the rest of her life to chamber concerts singing almost in every European language. At the same time, Solomiya had always remembered where she came from: whatever country she performed, she always included Ukrainian folk songs and songs of Ukrainian composers into her repertoire. In 1939, Krushelnytska returned to Ukraine. She was awarded a professor's degree of Lviv Conservatory and was teaching her Ukrainian followers the art of singing till the end of her life. To date, the name of Solomiya Krushelnytska is remembered and honored in her motherland. She is a character of many poems and songs. To honor the great singer, the jewel of Western Ukraine – Lviv Opera Theater – was named after Krushelnytska.