Traditions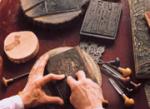 Like any nation in the world, we have our own features that may look unusual to a guest, for example, our cuisine. In restaurants you can be served a bowl of strange red soup called borshch. This is a traditional Ukrainian dish that only Ukrainians can cook properly. If you wish to get an in-depth look at our folk traditions, it is best to see a holiday celebration. On the shortest night of July, young people jump over a campfire, and girls place crowns of flowers on the water. This romantic celebration is called Ivana Kupala. Our people celebrate Christmas in a special way too. On Christmas Eve, you can bump into costumed amateurs and professional performers in the streets who sing Christmas carols and stage folk performances called verteps.
Looking for souvenirs, tourists can always find pysanky, those decorated Easter eggs that serve as a sort of a «trademark» of Ukrainian culture. Ornamented Easter eggs originate from the pre-Christian times of pagan. In the town of Kolomyia in the Carpathian Mountains there is even a Museum of pysanka.
Ukraine is home to 130 nationalities and communities that have their roots here. The multinational makeup of the country took shape over thousands of years. Every nationality brought its culture and religion. Over the centuries, they learned how to understand one another and respect the traditions of their neighbors. They built their homes and places of worship near each other, defended themselves from invaders, and raised their children together. Therefore, visiting Ukraine, one can become familiar not only with Ukrainian traditions, but also with the traditions of other nations.
The Ukrainian Carpathian Mountains are home to several ethnic groups, called Lemky, Boyky and Hutsuls, each with their original culture. You can still find their special styles of clothing, musical instruments and unusual celebrations if you visit this region. The Crimean peninsula will introduce you to the traditions of the Crimean Tatars. This nation survived a horrendous misfortune when they were deported from their homeland in Soviet times, but many Crimean Tatars have already returned. You should definitely try their cuisine and get to know their culture.