To Ukraine for education!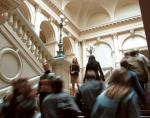 It has always been very prestigious to study abroad. A specialist holding a diploma of a foreign educational institution brings into his or her professional practice knowledge, skills, and promising ideas from other countries. In the modern dynamic and open world, when companies look and go beyond their internal markets, knowledge of the cultural, social, and economic specifics of other countries is especially in demand.
We suggest that you consider the opportunities of acquiring a higher education in Ukraine. Here you can acquire a qualification of engineer or medical doctor, sociologist or economist, linguist or musician. Prospective students from more than 130 countries choose Ukraine as a place to study. The country is among the top 10 in the world in terms of the number of foreign students. This is an impressive figure for a country that is 45th in the world in terms of occupied territory and 27th in terms of population. Little wonder, as Ukraine's educational branch is a strong and developed system with old traditions. Back in the Middle Ages, the first educational institutions of Kyiv and Lviv enrolled students from foreign counties.
Today the number of foreign students in Ukrainian institutions of higher learning is near 45,000. Local universities, institutes, and academies offer bachelor, specialist, and master programs in more than 400 specialization areas, including the specialization of your dream.
Ten Arguments in Favour of a Ukrainian Education
If you are looking for an educational opportunity abroad for yourself or your relatives, we recommend you to take a closer look at Ukraine with this end in mind.
1. Simple entry into the country. Visa-free entry is granted to citizens of the former Soviet republics. In addition, no Ukrainian entry visa is required for nationals of European countries, as well as the United States, Canada, Israel, Japan, Mongolia and some other countries. This means they will not need to waste their time, effort, and money to get a visa. People from other countries should contact the Ukrainian Embassy to find out the visa procedure for them. Ask the institution of higher learning of your choice for visa support.
2. People in Ukraine are tolerant toward foreigners. The country is free of any racial, ethnic, or religious conflicts. Ukrainians are known for their hospitality, which you will be able to see for yourself.
3. The cost of living in Ukraine is far below the level of European and North American countries, as well as Moscow. Even the capital of Ukraine, Kyiv, is not in the world's top 10 most expensive cities, according to major ratings. If you choose a university in such major region centers as Kharkiv, Dnipropetrovsk, Donetsk, Luhansk, Lviv, and Odesa, lodging costs will be even lower for you than in the capital.
4. The cost of an education in Ukraine is also significantly below the European or North American levels.
5. The country's leading universities usually have a century-old or even older history and an excellent reputation. Ukrainian research schools are recognized the world over for their achievements in various fields of knowledge.
6. Ukrainian universities offer you qualification attainable through a study model adopted in most countries: the bachelor's and master's degrees. However, the system of academic and qualification degrees in Ukraine has some specifics of its own. Along with the qualification degrees common in Europe, it includes the qualification of specialist. For this reason, local educational institutions may offer you a specialist's degree program. Such a program is one year longer compared to a bachelor's program, but it is not as long as a master's degree program. It may be that this option would better suit the needs of your country. So, your choice of a study program depends on you and your plans for the future.
7. A Ukrainian diploma will let you begin your professional career or continue your studies in any country of the world. Ukraine has joined the efforts of other countries to simplify the procedures for recognizing education documents. The country is a member of the Hague Convention Abolishing the Requirement for Legalization for Foreign Public Documents, as well as the Lisbon Recognition Convention on the recognition of qualifications concerning higher education in the European region.
8. Most institutions of higher learning that enroll foreign students have a preparation departments of their own. If you want to study in Russian or Ukrainian but your knowledge of these languages is insufficient, you have an opportunity to spend a year preparing yourself for study in a language that is foreign for you.
9. Ukrainian universities offer their students dormitory rooms as inexpensive lodging for students only. But if you need a more comfortable place, you are free to rent an apartment.
10. Last but not least, Ukraine is a very beautiful country. There are plenty of things here to see, learn, and have fun. This means you will not only be acquiring a high-quality education, but living a campus life to remember!
There are also some disadvantages which we feel compelled to name:
1. In Ukraine, you will need to adapt to the local cuisine. The traditional dishes here include borsch (beetroot soup), varenyky (dumplings), kruchenyky (stuffed meat) and other strange but tasty dishes. Of course, you will find restaurants offering cuisines that are more familiar to you. There are Chinese, Japanese, Italian and many other restaurants.
2. In winter, which here lasts from December through February, Ukraine is covered with snow. Winters here are less severe than, for example, in Moscow. But you need to be prepared for freezing temperatures and snow.
3. But the most important thing for you to know is that after your graduation, you will not want to leave this country, since after your years of study you will have many close friends and acquaintances.