Sophiyivka Dendrological Park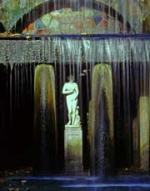 Few countries can boast a dendrological masterpiece similar to the one located in the small town of Uman, not far from Kyiv. The famous dendrological park, Sophiyivka, is a monument of the world's garden and park art of the late 18-th – early 19-th centuries. Recently, it was selected as one of the "Seven Wonders of Ukraine".
The park is also called an ideal combination of water, land, buildings and sculptures. Sophiyivka Park was established in 1796 by Polish Count Potocki in honor of his beautiful wife Sophia. It was her idea to create a park in a romantic style using the plots of Ancient Greek and Ancient Roman myths, and the characters of Homer's Iliad and Odyssey. The park was created in the steppe area along the Kamyanka riverbed. While creating the park, the local terrain was used to the maximum. Yet, the scale of work completed with the help of the machinery available in those days is impressive. The dendrological park is located on 179 hectares of land. The man-made grottos, cliffs, alleys, cascades of lakes, and fountains are harmoniously combined into a unique natural and architectural ensemble. Here, the English park, with its abundant collection of plants from different countries of the world, borders with Elysian Fields and a Chinese pagoda. One will be amazed at the wonderful landscapes, exotic plants and ancient sculptures. A walk through the park will leave unforgettable memories. Apart from the walking excursions, one can take a boat or gondola trip, or float down the "underground" river Acheron. Whichever season you choose to visit Sophiyivka, you will definitely find yourself in a small poetic and charming fairyland.